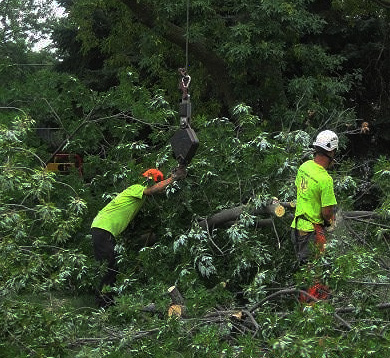 Primate Tree Care is a living American dream. We started this company with almost nothing and built it into a fully equipped, fully insured powerhouse. We sold almost everything we owned to buy a meager set of gear, and by working from 7am to midnight, six to seven days a week, we made it happen.
With all this sacrifice, we tend to take the quality of our work and the satisfaction of our customers very seriously. We are very proud of Primate Tree Care and it shows in every job we do.
Primate Tree Care provides professional, arbor culturally correct tree trimming and tree removal across the twin cities and beyond. We specialize in difficult and dangerous removals, but are happy to take care of your smaller projects as well. We also have extensive experience with disaster relief and complex storm damage of all kinds.
Primate Tree Care focuses exclusively on tree work, and does not perform landscaping or any other trade. We take pride in being continually educated on the most effective tree care methods known to the industry.
With recent work performed all over the metro, local references are always available, often down the street. We ourselves live in Woodbury and Hugo, MN. However we do consider the twin cities, Minnesota, and America our home. No matter where you live, Primate Tree Care will treat you like our neighbor.
We look forward to working with you very soon! Thanks!